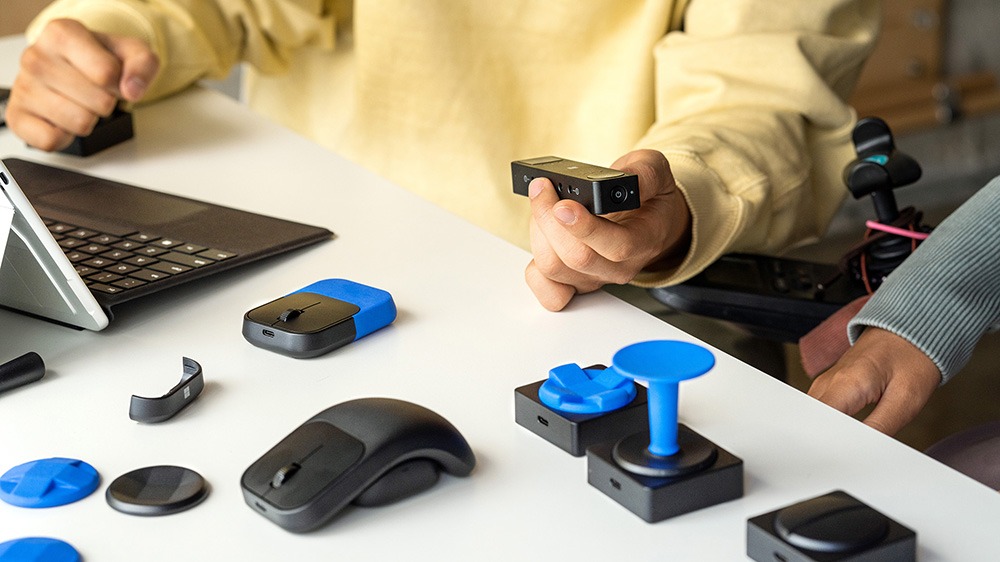 19 Jun

Adaptive computer accessories
New mix-and-match computer accessories give people with disabilities easier ways to work and create
The following is a repost from an article published by Microsoft Source about new developments in adaptive computer accessories. You can see the original article > here 
But this time, John Helmes, an industrial designer at Microsoft, had a bigger project. He brought his idea, an adaptable mouse for people who can't use a traditional mouse, to the company's Hackathon, an annual innovation event for employees. He assembled a large team to build a prototype from a Microsoft Arc mouse they cut and attached to a 3D-printed piece designed for finger support and control. The device reduced unintended clicks and helped Jara, then 5, control her computer cursor for the first time.
"The Microsoft Adaptive Accessories are intended to remove the barriers that traditional mice and keyboards may present to people with limited mobility"
Two years and many iterations later, that early prototype has evolved into the new Microsoft Adaptive Accessories, a highly adaptable ecosystem that lets users customize their mouse, keyboard inputs and shortcuts. The accessories include the Adaptive Mouse, Adaptive Hub and Adaptive Buttons and are now generally available.
"In the beginning, it was, 'Jara can't use a PC. I'm her father. Let's hack a way for her to use the PC,'" says Helmes, who lives in the Netherlands. "But really quickly, I thought, 'Hold on. If this works for her, this could have the same impact for so many other people.'"
The wireless accessories can replace or augment a traditional mouse and keyboard for users with limited mobility or anyone who wants to use a PC more easily and efficiently. Users can customize the Adaptive Mouse with different attachments, including a mouse tail extension and a thumb support configurable for the left or right hand. They can create custom inputs without a keyboard through the Adaptive Hub and Adaptive Button, which is available as a D-pad, joystick and dual button. The mouse and button can be further customized with 3D-printed attachments from the company Shapeways.
"The Microsoft Adaptive Accessories are intended to remove the barriers that traditional mice and keyboards may present to people with limited mobility," says Gabi Michel, director of Accessible Accessories at Microsoft. "No two people are alike, and empowering people to configure their own system that works for them was definitely the goal."
The button and hub have helped Mandy Pursley, a graphic designer and voice-over artist in North Carolina, work faster and with less shoulder pain. Born without a right hand and forearm, Pursley had been typing and mousing with her left hand. With the adaptive products, she was able to program the button with macros that replace repetitive mouse-and-keyboard tasks and actions that require pressing several keys at once.
"The button has been the most awesome thing. It literally feels like they made it just for me," says Pursley, who recently timed herself working on a 500-page project with the easy-to-press button. She found that she could work 30% faster, saving hours of time.
"This is going to make such a huge difference for so many people," she says. "People with disabilities already have a lot of creativity and resourcefulness because we have to learn how to function in the world and adapt to technology. Having technology that actually adapts to us is just going to take our productivity up to the next level."
Pursley was one of many beta participants, disability advocates and tech users with limited mobility who shared guiding feedback with Microsoft's product team. The team also integrated input from gamers using the Xbox Adaptive Controller, a device that connects to assistive buttons and switches with jacks and ports. Released in 2018, it enables more accessible gaming, but gamers have found the wires cumbersome and the big controller not very portable — feedback that Microsoft heard and incorporated into the Adaptive Accessories.
"We always want to get input from the disability community and learn about the barriers people are experiencing and what they need. Wires are difficult. That's a huge learning we got on the Adaptive Controller," says Michel, who led the controller's development. "With the Adaptive Accessories, you don't have to use wires at all."
Several students, who couldn't use a regular mouse, were able to move the cursor with a combination of the Adaptive Mouse, a 3D-printed attachment for finger alignment and a customized mouse setting in Windows. 
Equipped with the latest Bluetooth technology, the slim Adaptive Hub can connect wirelessly to three devices and four Adaptive Buttons as well as to assistive tech switches via 3.5-millimeter ports. Each button has eight digital inputs, packing many customization options into a small device. The wireless, pocket-sized accessories enable a portable system that's easy to set up and use on the go.
Helmes also brought prototypes to his daughter's school, where feedback from disability specialists Hans Ploum and Petra Bongartz was invaluable. Their suggestions, now part of the accessories' design, included using on/off buttons instead of harder-to-use sliders and making the products easy to mount onto a wheelchair or desk.
"With a little bit more support, we saw that the students were suddenly engaged with the PC, because it was easier for them to start using it," says Ploum, IT coordinator of the school, Ulingshof, a child center for students with disabilities in the Netherlands. "That participation is really important."
Several students, who couldn't use a regular mouse, were able to move the cursor with a combination of the Adaptive Mouse, a 3D-printed attachment for finger alignment and a customized mouse setting in Windows. Helmes' daughter Jara can now click and scroll with her mouse and the dual button, enabling her to play educational games on her own.
"It doesn't just help with education," says Bongartz, an occupational therapist with Dutch rehabilitation center Adelante who works with students at the school. "Being able to do a task by themselves is very empowering and gives them confidence and self-esteem. When they are able to use digital technology, the world opens up and they can partake in society."
Adaptive Computer Accessories
For Microsoft, the Adaptive Accessories are part of a long-term focus to make more inclusive technology, from the Xbox Adaptive Controller to the Surface Adaptive Kit to accessibility features in Windows 11. The company also partnered with Shapeways to make 3D-printed adaptive grips available for users to customise their Microsoft Business Pen and Classroom Pen 2.
For Helmes, the many experts — electrical and mechanical engineers, UX researchers, software developers — who joined his mouse project from Asia, the U.S. and the U.K. helped turn his idea into a reality. Like him, many were motivated by someone they knew or loved who might benefit from the technology.
"People came together with their own expertise and passion about accessibility in a really beautiful way," says Helmes, a senior designer who was working on the Azure Sphere platform when he started his Hackathon project. "It's going to be absolutely amazing to see what the future holds."
The products have already had an impact for Microsoft developer Jeremy Likness. Diagnosed in early 2020 with young-onset Parkinson's disease, Likness has a tremor in his left, dominant hand that makes typing and mousing difficult. He explored assistive technologies like a foot pedal and a head tracker, but nothing felt natural or efficient.
He began using the Adaptive Accessories as a beta participant and discovered a way to work more productively and with more control and less stiffness. A 3D-printed attachment on the Adaptive Mouse prevents his tremor from triggering unintentional clicks while allowing intentional clicks to go through. His right hand controls the Adaptive Button, which he programmed with macros for common tasks. He also uses speech-to-text software.
For email responses, he presses the button to start a macro that hits reply, writes "Hello," goes to a new line and opens a voice-typing app. He also uses the button for macros to triage emails and join calls.
"I can dictate at a pretty fast rate," says Likness, a manager with Microsoft's .NET developer platform. "I feel like the combination of the adaptive hardware and speech-to-text advances puts me back on par with the level of productivity that I am used to having."
After he was diagnosed, Likness joined a group for employees with disabilities to support others and raise awareness for the importance of accessibility. As a disability advocate, he was excited to share his lived experiences and feedback on new products designed to help many people.
"It was an opportunity to impact productivity in a tangible way that I know is beneficial because I've used it," he says. "Now other people will be able to use it, so it's definitely a great feeling and a great experience."
By Vanessa Ho
Originally published November 2, 2022