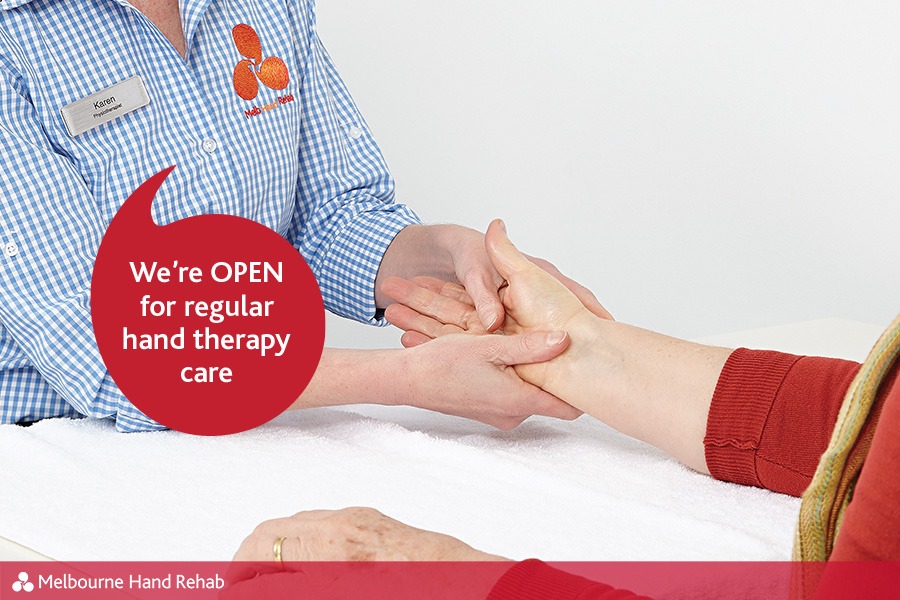 20 Oct

COVID-19 policy & safe plan
We're OPEN for regular hand therapy care.
Covid-19 has had an obvious and serious effect on everyone's lives in 2020, 2021 and beyond. The services we provide are deemed essential as we take care of people with acute injuries and surgeries.
The following information was updated on 10 May 2023 and details Melbourne Hand Rehab's policies in regards to:
COVID-19 Patient Risk Determination
Mask Policy
COVID-19 Safe Plan
DHHS COVID-19 Risk Determination
If you are currently experiencing COVID-19 like symptoms, or if you consider you may have recently been exposed to COVID-19, then we request that you either:
Delay your face-to-face consultation for 5 days, OR

Convert your face-to-face appointment to a Telehealth consultation
If you are unsure please call and discuss your particular issues with reception, 03 9458 5166
---
Mask Policy
As per Victorian Government guidelines, face masks are currently not mandatory and are optional to be worn in all Allied Health settings.
As we have a duty of care to protect our clients, a number of whom are vulnerable due to underlying medical conditions, please advise our staff if you would prefer your clinician to wear a mask during your visit.
We appreciate your understanding.
---
COVID-19 Safe Plan
COVID-19 Infection Control
Masks are no longer compulsory for all team members within the Practice.

The Practice is disinfected in accordance with guidance from Safe Work Australia and public health authority. 

Air purifiers with HEPA filters are located in all clinical areas of the building without windows.

Frequently touched surfaces including counters, handrails, doors, phones, bathrooms, keyboards and EFTPOS facilities are regularly cleaned multiple times per day.

Physical distancing is encouraged throughout the clinic.

Alcohol based hand sanitiser is provided at all workstations and on entry to the Practice.

Posters on hand washing are prominent in the clinic and hand washing facilities are available in the bathrooms.

All team members sanitise throughout the day.

All staff and contractors have completed the DoH Infection Control Training – COVID-19
Within Clinical spaces:
Equipment sanitised regularly.

Beds are sanitised regularly.

Hands washed and/or sanitised between every patient.

Clinicians wear a surgical mask upon request.

Team members have been briefed on symptoms of COVID-19 and have been told to stay home if they aren't feeling well.
Have questions?
For more information, enquiries and appointments please call us on 03 9458 5166.
Click HERE to conveniently book an appointment online.
Stay safe. The Melbourne Hand Rehab Team.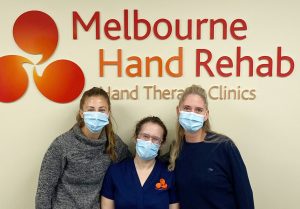 At Melbourne Hand Rehab we are pleased to be able to offer a choice for Hand Therapy:
In Clinic  •  Telehealth  • Home Visit