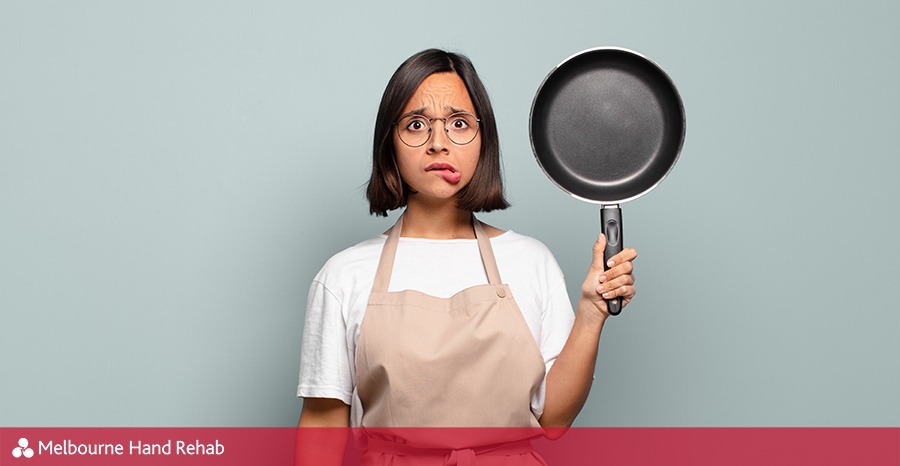 29 Jul

One handed cooking tips when wearing a splint or brace
My hand is cooked… now what?
Now I'm no Jamie Oliver, but I do love my food and I do love fixing people's hands. And given food and people's hands are the two things I think about most in life, this got me thinking some more. How are people going to cook in that splint I just made them? Are people going home from my treatment sessions thinking… "Now I know my therapist said full time splint wear, but boy am I hungry and I surely can't cook wearing this!"
As a therapist, this is not the end game we're looking for! 
I surely don't want you to have to reach for the two minute noodles for the next 6-8 weeks, as tasty of a midnight snack as they may be. So I hope by the end of this read you can have a few ideas about how you can still cook delicious meals at home, whilst following your therapist's treatment guidelines. 
So buckle up masterchef's, one handed cooking school is in session.
5 tips for making one handy meal
Get set up
One of the most seemingly obvious but important things to do prior to starting your meal is getting everything prepared. This includes finding any utensils you may need and placing them in your clean cooking space. This will save you having to run around the kitchen later.
Get lazy
Purchasing ingredients that are pre-prepared can be a massive help, as it saves yourself from one handed chopping, peeling or just general kitchen tasks. Deli's will often have pre-diced chicken breast or sliced steak and vegetable sections will often have options like cut up mushrooms. As well as this, you may like to try frozen veggies which as well as being super nutritious, are easy to handle, or veggies that require no further prep, like spinach or tinned tomato. 
Get Cautious
Cooking can be dangerous at the best of times, but when we're approaching the chopping board one handed, things can get sharp real quick. Consider avoiding recipes which require large pots of anything hot or lifting large cooking equipment. Be sure to follow your therapist's advice regarding lifting restrictions!
Get Inventive
Just like people, not all hand conditions are the same. Some last longer than others. So if it's looking like one handed cooking action might be you for the long run, consider getting some one handed cooking aids. Tools like one handed chopping boards, can openers and ergonomic utensils can be a massive help.
Get Help
If you're anything like me, you might not be great at asking for help in the kitchen, but when doing things one handed, family and friends can be your greatest asset. Get comfortable with asking for help with little tasks where possible. Invite your friends over for a meal with ulterior motives and politely ask for them to help you cook. Get the housemate to boil the pasta water for you or best of all, delegate the kids to dish duty.     
Here's one I prepared earlier… for you to prepare later
My inspiration for a tasty meal that can be made one handed.
The one hand 'dilla.
Quesadillas – Serves 4
Ingredients
500 grams of pre-chopped chicken breast (or plant-based alternative)

1 pack of taco seasoning

Shredded cheese (1 good handful per quesadilla)

1 tin of black beans

1 tin of corn kernels

8 tortillas

Sour cream

Coriander
Method
Brown off chicken in a frying pan in 1 tablespoon of olive oil on medium heat.

Once the chicken starts to brown, pour over taco seasoning to coat chicken. Stir regularly to ensure even coating and browning of chicken.

Add black beans and corn kernels to chicken mix and stir through.

Once the chicken is cooked, place a tortilla on a sandwich press and place an even amount of chicken onto the tortilla.

Add a generous handful of cheese on top of the chicken.

Place a second tortilla on top and toast in the sandwich press until cheese is melted.

Once toasted, place the quesadilla on a chopping board and use a pizza cutter to cut into quarters.

Plate up and top with sour cream and coriander as desired. 

If you are experiencing hand or wrist pain, don't hesitate to get in touch. We'd love to help you.
BOOK AN APPOINTMENT
For more information, call us directly on 03 9458 5166
By Harrison Vercoe
Image credit: Lottie Griffiths and Fernand Andrade, Unsplash