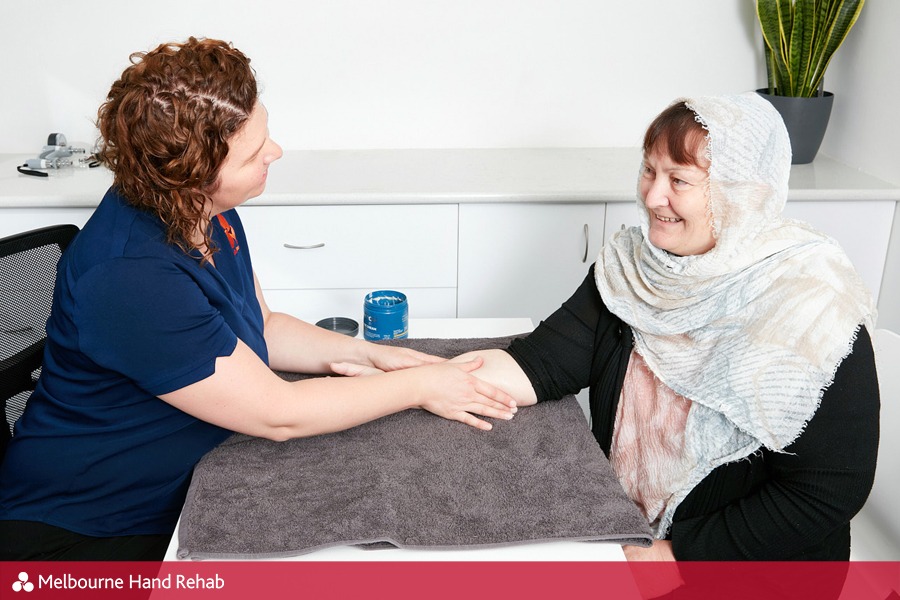 23 Jul

What is a Hand Therapist?
I often hear, 'I didn't even know that there were hand therapists'! Well, we do exist and are highly educated and trained in upper extremity injuries!
Practitioners in hand therapy are fully qualified physiotherapists and occupational therapists. They have additional extensive training and experience in finger, hand, wrist, and arm injuries and conditions.
Through further education, clinical experience and independent study, hand therapist have become specialised in a vast array of conditions.
Four special talents of a hand therapist:
1) Splinting.  A core skill of a hand therapist is the ability to make a splint or orthosis custom made to your hand, wrist, or elbow. A splint can be fabricated out of thermoplastic, leather, fiberglass or neoprene.  Your injury and day to day activities will be taken into account of what the best option is for you and your injury. Occasionally, your hand therapist may choose to customise a commercially available brace or select an off the shelf brace as the best option or you.
2) Scar management and wound care.  Hand therapists work with hand and burn surgeons. Therefore, they have a range of specialised skills related to the management of skin. Your hand therapist is often in charge of removing post-operative sutures, and cleaning and re-dressing your wounds.  Silicone products and compression for scars are further examples of the wound management you may receive.
3) In-depth anatomical knowledge of the hand and arm.  Practitioners of hand therapy have focused their attention on this one area of the body. They have a level of knowledge and understanding that is hard to find elsewhere; including the origin, insertion, and innervation of all of the muscles. Full knowledge of bone and ligament positioning, structure, and healing are a few other examples.
4) Accurate diagnosis and injury specific rehabilitation and exercises.  Your hand therapist is specialised in diagnosing your precise injury. Exercises for range of motion, strength, function, pain, and scar management are designed specifically for you to progress you to through your healing process.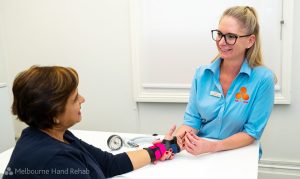 Hand therapist accreditation and registration
Hand therapists must be registered with AHPRA (Allied Health Practitioner Registration Authority). They may also be members of their own professional association such as the APA (Australian Physiotherapy Association or AAOT (Australian Association of Occupational Therapists).
However, a majority are members of the hand therapy peak body, the AHTA (Australian Hand Therapy Association). The AHTA exists to provide hand therapy professional development through their courses, special interest groups and annual scientific conference.  The AHTA has over 700 members around Australia.
To give you an idea of what it means to be a full member of the AHTA, the criteria is listed here:
Minimum of three years full time experience as a physiotherapist or occupational therapist
3600 hours of clinical hand therapy specific experience
300 hours of post graduate professional development and education related specifically to hand therapy
For a complete listing of full members of the AHTA and their practice locations visit the website:  www.ahta.com.au
Your hand therapist may not be listed on the website if they are an associate member. Associate members of the AHTA have no formal criteria aside from being a registered physiotherapist or occupational therapist.  Associates may be awaiting their membership upgrade, or building up their hours to achieve eligibility status. Hand therapists are not obligated to be an AHTA member.
Take note:
You do not need a referral to see a hand therapist (unless you are claiming through WorkSafe, TAC, Veterans Affairs, or the Medicare CDM plan). The Chronic Disease Management plan (CDM – was formerly called EPC).
If you have a hand injury or condition, it is optimal to see a hand therapist as they are highly specialised and have extensive knowledge and experience. If hand therapy is not appropriate for your situation, your hand therapist will be able to refer you to someone else who will be best to help you.
If you are experiencing hand, thumb or wrist pain, don't hesitate to get in touch. We'd love to help you.
BOOK AN APPOINTMENT
For more information, call us directly on 03 9458 5166
You might also be interest in: