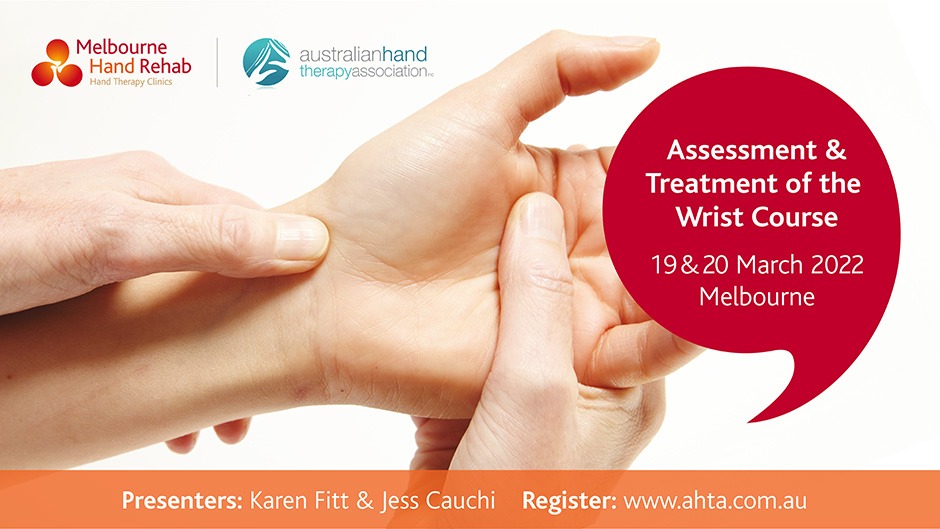 15 Feb

AHTA Wrist Course March 2022
Registration for the 19 & 20 March Assessment and Treatment of the Wrist Course close on 25 February (unless sold prior)
Presented by Karen Fitt
This 16 hour course teaches participants to perform an accurate assessment and clinical diagnosis of wrist pain and management of frequently seen conditions. Wrist anatomy relating to real-life clinical presentations will be covered in-depth and in an interactive and engaging way. Practical components include surface anatomy, special tests of the wrist, a structured and comprehensive wrist assessment and practice.
This course will be delivered face to face only
AHTA Assessment and Treatment of the Wrist Course
Melbourne, 19 & 20 March 2022
Prerequisites:
The course is aimed at a less-advanced private practitioner or an experienced therapist who has worked in the hand therapy field but has NOT been required to assess and diagnose wrist pain and injury.
It is suitable for physiotherapists, occupational therapists and practitioners of hand therapy working as, or hoping to work as, primary contact health practitioners, who are required to accurately assess and diagnose wrist pain and injury as well as provide conservative management. It is also suitable for those wishing to improve their wrist skills in the public hospital system, especially ED departments.
Course details > Assessment and treatment of the wrist
For details and to register:
See > AHTA Events