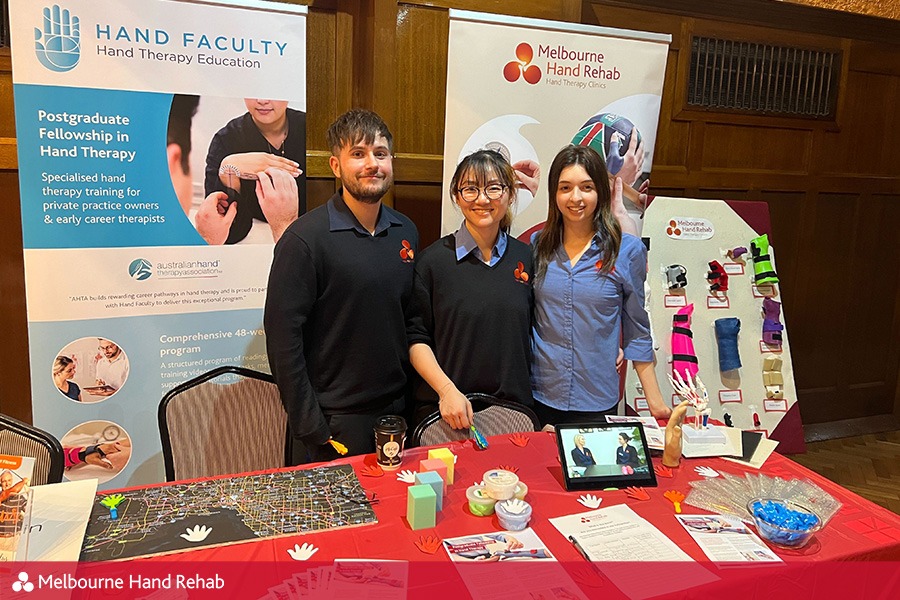 15 Sep

APA Job Show 2023

Our team had an absolute blast at the APA Job Show this year! Thank you Australian Physiotherapy Association for inviting us.

If you're a Physiotherapist and interested in Hand Therapy feel free to reach out, we'd love to give you more information about our Postgraduate Fellowship in Hand Therapy.

Applications for the January 2024 program are now open (and close on 31 October 2023). January program commences 15 January 2024.

Pictured: Hand Therapists Brandon Moore and Felicity Zheng, with Practice Manager Alicia Gatt.
Postgraduate Fellowship in Hand Therapy
The Postgraduate Fellowship in Hand Therapy is a one year position designed to support excellence in hand therapy in up and coming physiotherapists and occupational therapists. You will learn clinical skills from experts in the field, you will be directed in your clinical learning and provided with observation and personal learning time during the work week.
Melbourne Hand Rehab offer paid positions in the Postgraduate Fellowship in Hand Therapy through Hand Faculty. The Hand Faculty program is delivered in partnership with the AHTA, the national peak body for hand therapy in Australia.
For more information > Postgraduate Fellowship in Hand Therapy