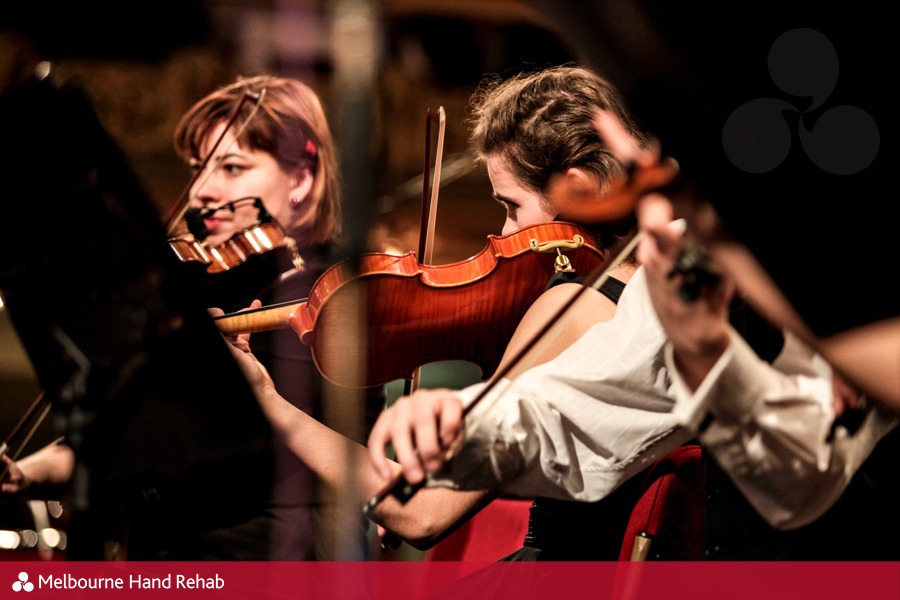 27 Feb

Avoiding injuries for musicians

We've all been there: an important exam, gig, or concert is coming up and you can't seem to spend enough time in the practice room. It's exactly at this time that an injury from increased duration or frequency of practice sessions can occur.

While there is increased risk of injuries during these times, there are strategies that can be used to help prevent them and ensure you're best prepared for your performance.
Tips for avoiding injuries for musicians
1. Preparation is Key
Warming-up is more than tuning and scales; ensure that your body is prepared for a practice session or rehearsal. Exercises such as big arm circles have been recommended before sessions to increase circulation to the arms and hands. You can also include exercises to help structures such as your tendons and nerves glide smoothly while you are playing.
Watch our video for some helpful warm up exercises you might like to try.
2. Play it Smart
Consider including mental practice or singing in your practice sessions to give your body a break and conserve our energy while still working towards your practice goals. You can also consider your set-up, such as the height of your stand and whether you choose to sit or stand for segments of your practice session.
3. Press Pause
Take regular breaks during your practice sessions; take time to stretch, go for a walk, or have something to eat or drink. As well as giving yourself a physical break, taking time to pause during practice sessions can also mentally refresh you and help to prevent fatigue.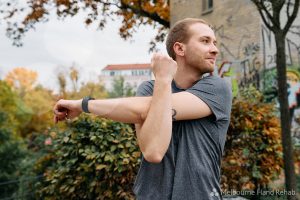 4. Escape the Practice Room
Regular exercise is great for your playing and performance, as well as your overall health. Find an activity that you enjoy, such as swimming, yoga, or going for a walk. Regular physical activity that includes aerobic exercise can especially keep your cardiovascular system healthy; this is particularly important for wind instrumentalists, but can also help with endurance and the overall health of all musicians.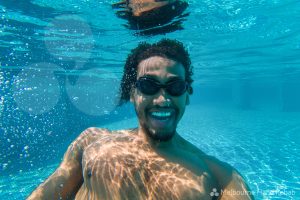 Overall, ensuring that your practice is safe and healthy, especially during busy seasons, is key to having effective practice and keeping your body fit for a lifetime of performances.
If you are experiencing thumb, hand or wrist pain from playing or performance, don't hesitate to get in touch. We'd love to help you.
BOOK AN APPOINTMENT
For more information, call us directly on 03 9458 5166
Image credit: Jan Strecha, Unsplash
References:
Baadjou, V.A.E., Ackermann, B. J., Verbunt, J. A. M. C. F., van Eijsden-Besseling, M. D. F., de Bie, R. A., & Smeets, R. J. E. M. (2021). Implementation of health education interventions at Dutch music schools. Health Promotion International, 36 (2), 334-348. https://doi.org/10.1093/heapro/daaa050
Foxman, I. & Burgel, B. J. (2006). Musician Health and Safety: Preventing Playing-Related Musculoskeletal Disorders. AAOHN Journal, 54 (7), 309-316. https://doi.org/10.1177/216507990605400703
Nazarian, M. (2022). 'soft psychoanalysis' and severing heads from bodies. Rediscover Ease. http://rediscoverease.com/tag/musicians/
Wolff, A. L., Ling, D. I., Casey, E. K., Toresdahl, B. G., & Gellhorn, A. C. (2021). Feasibility and impact of a musculoskeletal health for musicians (MHM0 program for musician students: A randomized controlled pilot study. Journal of Hand Therapy, 34 (2), 159-165. https://doi.org/10.1016/j.jht.2021.04.001
Yang, N., Fufa, D.T., & Wolff, A.L. (2021). A musician-centered approach to management of performance-related upper musculoskeletal injuries. Journal of Hand Therapy, 34 (2), 208-216. https://doi.org/10.1016/j.jht.2021.04.006