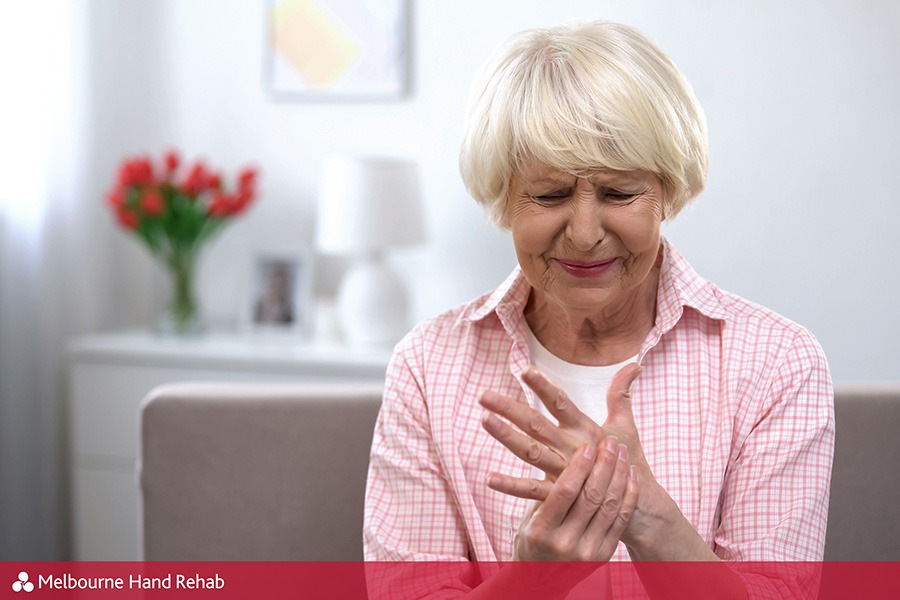 24 May

Can hand therapy really help my Osteoarthritis?
Hand Therapy for Osteoarthritis
Is it hard to open a tight jar? Place pegs on the line? Turn the tap at the kitchen sink? These troubles are all too common for individuals who have Osteoarthritis.
Osteoarthritis is the most common form of arthritis in Australia, with 1 in 11 Australians impacted by this degenerative condition (AIHW, 2019). Osteoarthritis in the joint at the base of the thumb is especially common in Australian women aged 50 years and older.
The degenerative nature of this condition means that individuals experience an increase in pain and find a steady reduction in hand movement, strength and ability to participate in meaningful activities. So, you may ask, what can I do? And how can a Hand Therapist really help me?
Osteoarthritis treatment
As hand therapists we regularly see individuals who have got osteoarthritis in their hand. The evidence to treating Osteoarthritis recommends that we take a multimodal approach. Your individual arthritis treatment plan may include:
Splinting
We make a splint out of a lightweight thermoplastic material, leather or neoprene that is customised to you and the shape of your hand. The purpose of the splint is to place the thumb joint in optimal positioning. This will help to manage your pain symptoms and reduce the risk of further deterioration. The splint will help reduce inflammation and allow you to more comfortably participate in tasks you enjoy doing.
Paraffin Bath Therapy
We place your affected hand in a paraffin wax bath. The paraffin wax is beneficial as it eases the pain and stiffness associated with Osteoarthritis. Plus, after each session you'll be leaving our treatment rooms with silky smooth hands! Paraffin wax sometimes isn't the appropriate option for some who have changes in sensation in your hand. However, this is something you can talk to your Hand Therapist about.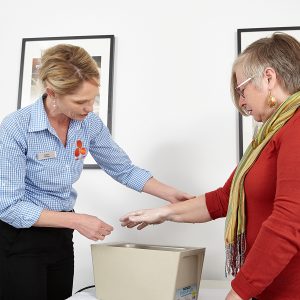 Improve thumb strength
We will focus on exercises that will specifically strengthen the various muscles that stabilise the joint at the base of the thumb. We focus on such exercises so to reduce further deformity of the joint and improve your ability to complete activities that you enjoy.
Educate about adaptive equipment
To be able to get a grip on your condition we will educate you about the range of equipment you can use to help manage changes with your grip. If you have pain and limitations that will impact on you enjoying activities, then we are here to help you navigate the many products available.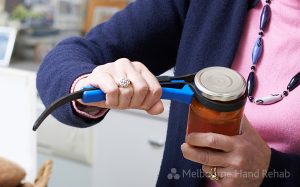 Discuss options of hand therapy
Sometimes seeing a hand therapist is enough to manage your pain symptoms and increase your hand function. So it is always worthwhile to try conservative therapy before you consider surgery. If surgery is something you would like to consider your Hand Therapist at Melbourne Hand Rehab can educate you about your options and help rehabilitate your hand after your surgery.
Yes, hand therapy can help
Regrettably Osteoarthritis is a degenerative condition and the damage that occurs can't be reversed. Therefore, come and see one of our Hand Therapists at Melbourne Hand Rehab so we can help slow the progression and increase your function.
If you are experiencing hand or wrist pain, don't hesitate to get in touch. We'd love to help you.
BOOK AN APPOINTMENT
For more information, call us directly on 03 9458 5166
Find out about our FREE Webinar on Osteoarthritis Management