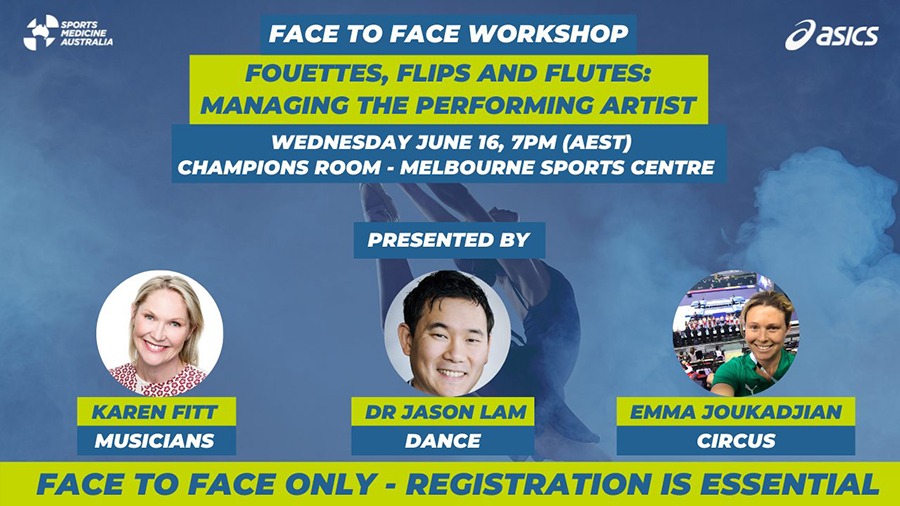 24 May

Fouettes, Flips and Flutes: Managing the Performing Artist Workshop
Sports Medicine Australia is thrilled to present this interactive workshop.
Fouettes, Flips and Flutes: Managing the Performing Artist Workshop
Featuring 3 performances to show delegates just how much goes into disciplines involved in performing arts and how Physiotherapists, Chiropractors, Osteopaths and Strength and Conditioning Coaches play such a vital role in keeping these athletes at the top of their field.
Date: June 16, 2021 7:00 pm
Location: Champions Room – Melbourne Sports Centre, 30 Aughtie Drive, Albert Park 3206
To Register: https://sma.org.au/event/fouettes-flips-and-flutes-managing-the-performing-artist/
Have you ever wondered how to treat an acrobat who performs death defying tricks, a dancer who just wasn't improving? How do you address an injury in a musician, whose livelihood is tied to their playing? Join our 3 expert presenters Emma Joukadjian (Circus), Dr Jason Lam (Dance) and Karen Fitt (Musicians) as they dive into the world of Performing Arts and how you manage these unique elite athletes. 
This event will be only available face to face at the venue, there will be no recording available. 
After 30 rewarding years of hand therapy practice, Karen now uses her experience and knowledge to create an environment at Melbourne Hand Rehab for optimal healing for our patients and rewarding careers for our talented team.
Karen provides strong leadership and training to our growing team and hopes to help more people by paying forward her expertise to those with a whole career of helping ahead of them. Karen's goal is to provide the best clinical environment conducive to providing exceptional treatment and ideal outcomes for all of our patients… [Read more]
Emma Joukadjian
Emma has extensive experience in the circus arts, gymnastic, dance, elite sports and athletic worlds. Her focus is on stability and holistic treatment with a collaborative team approach to athlete/artist loading and control.
Emma is physiotherapist for the Australian Mens Artistic Gymnastics' team, Trampolining and been physiotherapist for Australian Rhythmic Gymnastics team. She has worked internationally at World Championships, World Cups and Pacific Rim FIG competitions. She is Physiotherapist for the Victorian MAG, Trampolining and Acro Gymnastics teams at the Annual Australian Gymnastics Championships and Physiotherapist for the Victorian Men's Artistic Gymnastics High Performance Program… [Read more]
Dr Jason Lam
Dr Jason Lam has over two decades of experience working in the performing arts space at an elite level. He was formerly a professional dancer with Sydney Dance Company, Tasdance, Opera Australia as well as performing as an independent artist before retiring and studying medicine.
He has also taught at Company level and general public at Sydney Dance Company Open Classes and at local ballet schools around Australia from children to adults. He is the Crichton Dance Medicine Fellow at the Australian Ballet and Orchestra Victoria where he looks after the dancers and musicians.
Jason holds a Masters in Sports Medicine, a Diploma of Child Health and is a Fellow of the Royal Australian College of General Practice… [Read more]
Registration