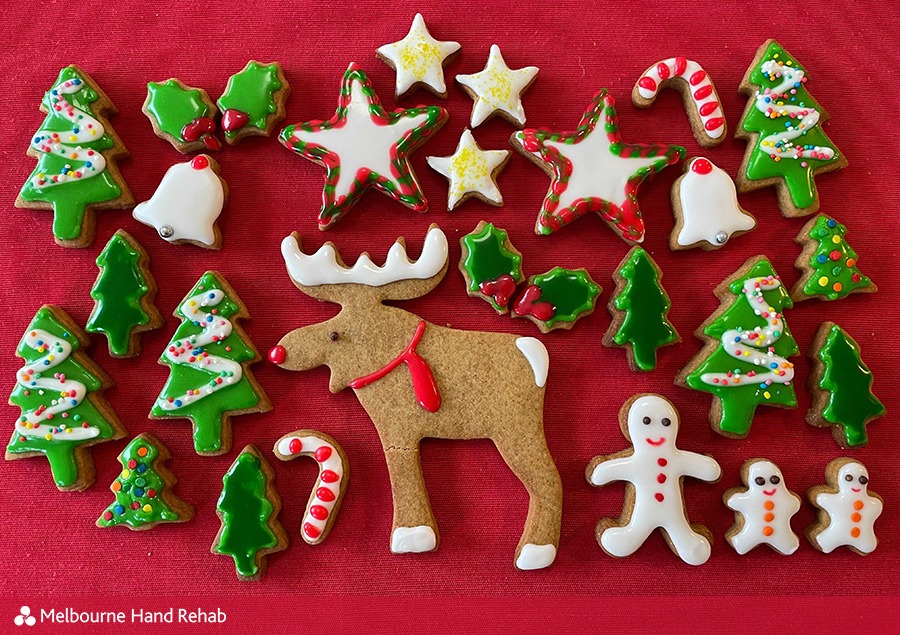 03 Dec

Linda's most delicious gingerbread recipe
Gingerbread – delicious easy to make cookies for Christmas
Gingerbread is the perfect baking family activity. It's fun, easy to do (and pretty hard to muck up).
If you've never made it before, why don't you give my recipe it a try.
– Linda
Ingredients
1 egg separated (yolk for gingerbread, white for icing)
100g brown sugar
370 plain flour
1 tbsp ground ginger
1 tsp mixed spice
1 tsp baking soda
130g butter
120g golden syrup
250g (approx) icing sugar
Method
Preheat oven to 180°c
Place all ingredients other than egg white and icing sugar, into a bowl and mix with an electric beater until dough comes together.
Poor dough onto lightly floured bench and knead lightly until smooth. Roll dough into a smooth ball.
Cover dough in plastic wrap and put into fridge for (at least) half an hour. Dough can also be chilled overnight.
Roll out dough into a 5mm sheet. And cut into desired shapes.
Place shapes a few cms apart on prepared baking sheets (baking paper or silicon).
Re-roll dough scraps until all the dough is shaped.
Bake for 7-10 minutes depending on size and shape.
Icing
Put egg white in a bowl and gradually add icing sugar until icing is firm, but still pipable.
Add desired food colouring to the icing or use it plain white.
Place icing into piping bag(s) and go for it!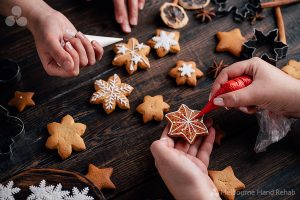 Delicious gingerbread tips
You can increase the amount a spice if you like your gingerbread with a bit more oomph.
Chilling the dough is an important step as it helps the dough keep its cut shape when baked. If your dough gets too warm it may need to be returned to the fridge for re-chilling.
If you find your cookie cutters are sticking to the dough, try dipping the cutter in flour first.
You may find it easier to place the dough between 2 sheets of baking paper when rolling out.
If your oven has a hotspot, make sure you rotate the tray during cooking.
Make sure your gingerbread is completely cool before icing.
Happy baking and have a safe and merry holiday season from all of us at Melbourne Hand Rehab.