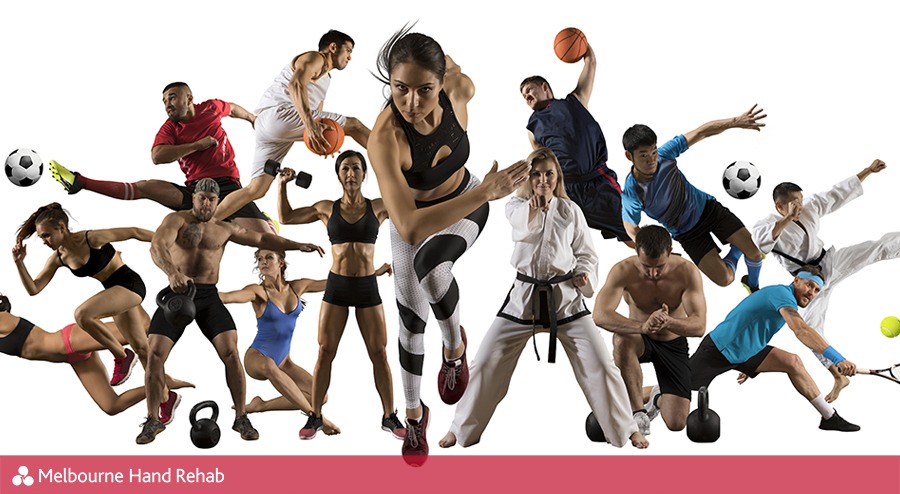 28 Oct

Getting back into sport
Tips for easing back into it to avoid injury!
If you have taken a break from sport or working out due to illness, an injury or simply a lack of motivation, you may notice that your general fitness has reduced due to lack of exercise and movement. Most likely you will also have reduced upper limb muscle strength, coordination and flexibility.
Hand and upper limb injuries are very common in sports and can range from fractures to tendon ruptures, ligament tears, sprains, dislocations and even overuse injuries.
Did you know that in 2016-17 58,500 people were hospitalised in Australia for an injury sustained while playing sport. By comparison, over the same period, just over 60,000 people were hospitalised due to transport crashes (AIHW: Pointer 2018).
It is therefore important that we avoid this from occurring as much as possible, to ensure optimal longevity while playing our favourite sports!
Getting back into sport – tips to avoid injury:
Start slowly with activity and gradually build up to previous activity levels.
Ensure you have completed an adequate warm up before your game. This may involve various sport specific exercises such as catching and throwing a ball, dynamic stretching and finger, wrist, elbow and shoulder movements.
In ball sports particularly, avoid hitting or punch the ball with outstretched fingers.
Avoid continuing play if you sustain an injury or re-injure yourself.
Do NOT push through pain.
If you already have an injury and have decided to return to sport, ensure that you have spoken to your hand therapist regarding an appropriate sports guard, splint or strapping technique to protect and stabilise the area of your injury.
If you are recovering from a recent sports injury it is integral that you have completed your rehabilitation program and have returned upon your hand therapist's advice.

Getting back into sport – warm up tips for cricket spin bowlers
Hand therapist, Paul Fitz-Patrick from our Ivanhoe clinic, gives some fantastic tips on stretching your hands and fingers before playing a game of cricket.
If you are experiencing hand or wrist pain, don't hesitate to get in touch. We'd love to help you.
BOOK AN APPOINTMENT
For more information, call us directly on 03 9458 5166
By Romy Crellin
You may also be interested in: